Pro Tip: Controlling your SysTray Cube icon appearance
This 'feature' have been around for a long time, but I don't see any articles on it so I thought I would make everyone aware.
A method is provided to customize the appearance of the Cache cube icon in the system tray so different instances can be visually distinguished. When csystray.exe, the Cache/Ensemble cube program, starts, it will look for files named "up.ico" and "down.ico" in the \bin directory below the instance installation directory. If these .ico files are present, csystray.exe will load the icons and display them in place of the default blue and gray Cache/Ensemble cube icons. These files should each contain a single small (16x16) icon.
In order for the change to take affect, you need to exit the cube and then start it again from the Start menu (note - obviously this only works on Windows as the Cube doesn't run on other platforms).
I have attached a zip file of icons I have collected over the years. Feel free to play with them - as I often have a half-dozen instances installed of varying versions I have found this to be very helpful in telling them apart.
Hope this is helpful! See sample icon below (the 'green C' is what I clicked to get the menu)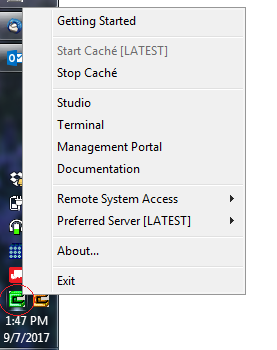 icons.zip