InterSystems Grand Prix Contest: Vote fo the Best Apps!
Hey Developers,
This week is a voting week for the InterSystems Grand Prix Contest! So, it's time to give your vote to the best solutions built with InterSystems IRIS.
🔥 You decide: VOTING IS HERE 🔥

How to vote and what's new?
Any developer can vote for their application - votes will be counted in both Expert and Community nominations automatically (in accordance with the Global Masters level).
All InterSystems employees can vote in both Expert and Community nominations.
With the voting engine and algorithm for the Experts and Community nomination, you can select 3 projects: the 1st, the 2nd, and the 3rd place upon your decision.
This is how it works for the Community leaderboard:
Community Leaderboard:
| Place | Points |
| --- | --- |
| 1st | 3 |
| 2nd | 2 |
| 3rd | 1 |
And there will be more complex math for the Experts leaderboard, where different levels of experts have more "points" power:
Experts Leaderboard:
Level

Place
1st
2nd
3rd
VIP level in GM, Moderators, Product Managers
9
6
3
Expert level in Global Masters
6
4
2
Specialist level in Global Masters
3
2
1
Experts' votes will also contribute 3-2-1 points to the Community leaderboard too.
Voting
1. Sign in to Open Exchange – DC credentials will work.
2. Make any valid contribution to Developer Community – answer or ask questions, write an article, contribute applications on Open Exchange - and after 24 hours you'll be able to vote. Check this post on the options to make helpful contributions to the Developer Community.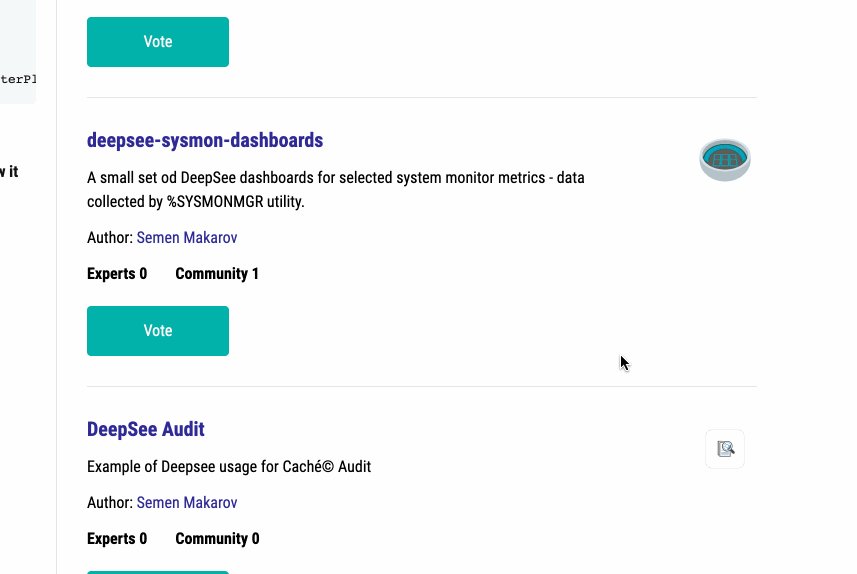 If you changed your mind, cancel the choice and give your vote to another application – you have 7 days to choose!
Contest participants are allowed to fix the bugs and make improvements to their applications during the voting week, so don't miss and subscribe to application releases!
➡️ Also, please check out the full voting rules for InterSystems online contest here.