Hacking Health Camp 2022 (day 2)

Hi guys!
We're continuing our updates of the 2nd day of Hacking Health Camp 2022 in Strasbourg, France.
All our mentors @Irène Mykhailova, @Lorenzo Scalese, @Laurent Viquesnel and @Guillaume Rongier are very busy exchanging ideas with teams and giving advice. 30 minutes per team to lead them to the best solution possible.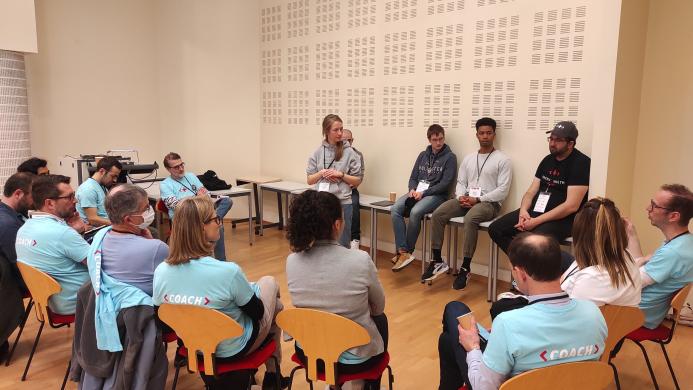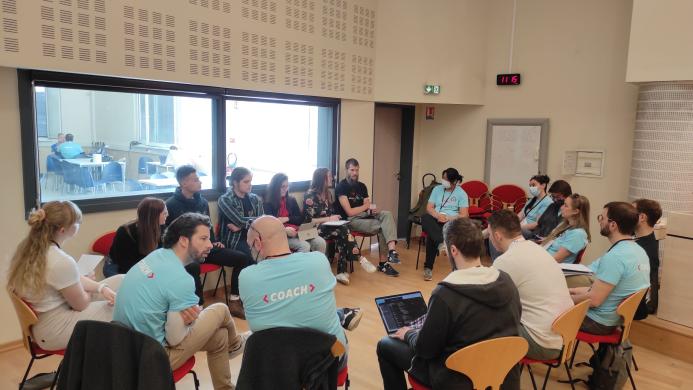 And of course, we have a dedicated team to answer ensuing questions about FHIR while the coaches are working in their respective groups.
While working in groups our mentors made points of projects that could benefit from using FHIR and made "appointments" with teams to help them use FHIR in their software.
UPDATE 3 PM:
@Guillaume Rongier presented a demo. And hopefully, it will help teams include this integration solution into their projects!
And to follow up, there are one-on-one sessions to answer particular questions.
UPDATE 6 PM:
As you can see, the first part of the day was dedicated to pitching and discussing the projects in general. After a lunch break, the real work has begun! People are working hard on the front-end, back-end, presentation, legal points etc. And to make their life easier, our coaches are helping the teams that are using FHIR to overcome any difficulties they may come across.
And some are discussing the projects with their fellow coaches.
Anyway, everyone is hard at work. Even our outside support (@Dmitry Maslennikov and @José Roberto Pereira), who are helping the teams day and night via Discord from wherever they are based geographically.
And during a short lull in the work, @Guillaume Rongier found time to do an interview and tell even more people about FHIR.
UPDATE 11 PM:
We're still working hard to help the teams reach their full potential :)
OK, we're going to call it a night soon and let the creative brains of teams work some more! See you tomorrow!