Report Render Server Error
Hi everyone, i'm using a render server to make pdf output with zen report and everything was fine till recently i've been getting this error message and i have no idea what it means, i'd be very thankfull if someone could help or got into the same situation.
Error message:
ERROR #5001: net.sf.saxon.trans.XPathException: org.apache.fop.fo.ValidationException: "fo:table-body" is missing child elements.
Required content model: marker* (table-row+|table-cell+) (See position 817:-1)
This error seems to be "random" if i try to render the same report without changing a single thing it works. I wonder if could be a memory issue. And another thing i notice is that in the "Reports Render Server" page if i click on "Activity" looks like i'm not using the Render Server: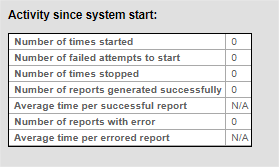 Please someone help me !