[April 23, 2019] Upcoming Webinar: Machine Learning Toolkit for InterSystems IRIS
Hey Developers!
Do you want to reap the benefits of the advances in the fields of artificial intelligence and machine learning? With InterSystems IRIS and the Machine Learning (ML) Toolkit it's easier than ever.
Join InterSystems Sales Engineers, @Sergey Lukyanchikov and @Eduard Lebedyuk, for the Machine Learning Toolkit for InterSystems IRIS webinar on Tuesday, April 23rd at 11 a.m. EDT to find out how InterSystems IRIS can be used as both a standalone development platform and an orchestration tool for predictive modelling that helps stitch together Python and other external tools.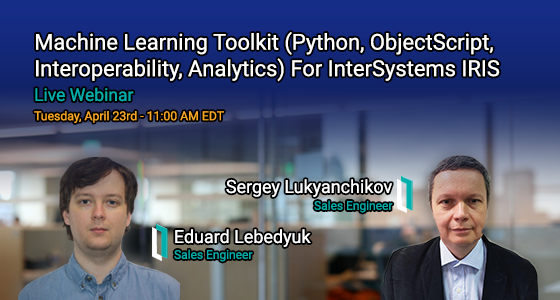 InterSystems IRIS also makes it easy to:
Leverage the model in a live environment.
Integrate seamlessly with transactional real-time business processes.
Develop intelligent business processes with the business processes UI designer.
After we get our models running, during their whole lifecycle, they generate many artifacts: tables, images, data structures, etc. IRIS Analytics can help with visualizing and exploring these artifacts. ML Toolkit use cases will also be presented to show how you can best utilize them in your solution.
Date: Tuesday, April 23rd at 11 a.m. EDT
Recommended Audience: Developers, Solution Architects, Data Scientists, and Data Engineers.
Note: The language of the webinar is English.
Register for FREE today!