Vote for the best app in the InterSystems Analytics Contest!
Hey Developers,
This week is a voting week for the InterSystems Analytics Contest! So, it's time to give your vote to the best solutions built with InterSystems IRIS.
🔥 You decide: VOTING IS HERE 🔥

How to vote?
Please meet the new voting engine and algorithm for the Experts and Community nomination:
You can select 3 projects: the 1st, the 2nd, and the 3rd place upon your decision. This is how it works for the Community leaderboard:
Community Leaderboard:
| Place | Points |
| --- | --- |
| 1st | 3 |
| 2nd | 2 |
| 3rd | 1 |
And there will be more complex math for Experts leaderboard, where different levels of experts have more "points" power:
Experts Leaderboard:
Level

Place
1st
2nd
3rd
VIP level in GM, Moderators, Product Managers
9
6
3
Expert level in Global Masters
6
4
2
Specialist level in Global Masters
3
2
1
Experts' votes will also contribute 3-2-1 points to the Community leaderboard too.
Voting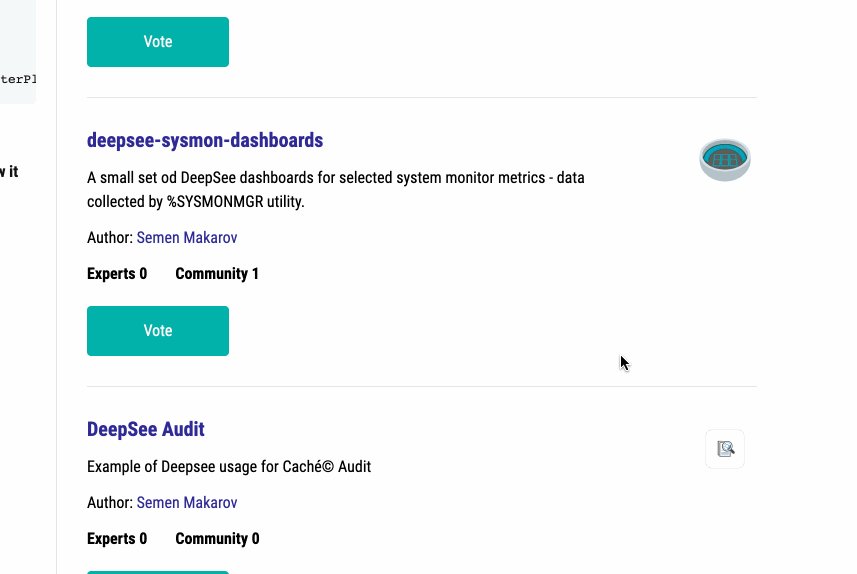 Voting takes place on the Open Exchange Contest Page and you need to sign in to Open Exchange – you can do it with your DC account credentials.
If you changed your mind, cancel the choice and give your vote to another application – you have 7 days to choose!
Contest participants are allowed to fix the bugs and make improvements to their applications during the voting week, so don't miss and subscribe to application releases!
➡️ Also, please check out the new voting rules for InterSystems online contest here.