InterSystems Open Exchange June 2019 Digest
Hi Community!
This is the update on what are the new applications submitted on OpenExchange in June 2019!
New Applications
Example Backup Task published by @Sergey Mikhailenko
Sample database backup copying task with prior deletion of outdated copies
A more useful Object Dump published by @Robert Cemper
This small helper class allows you to dump an object to terminal or
e.g in background to some stream for later review.
Samples BI published by @Evgeny Shvarov on behalf of InterSystems
This is a technology example of InterSystems Business Analytics tool with Cubes, Pivots, MDX Queries and Dashboards. The Sample is formerly known as "Holefoods "
Interjob communication Demo published by @Robert Cemper
It's internal variant of PIPE
​​​​​​General stats
Total apps: 135
Downloads:
Downloads by application category:
Top downloads in June 2019: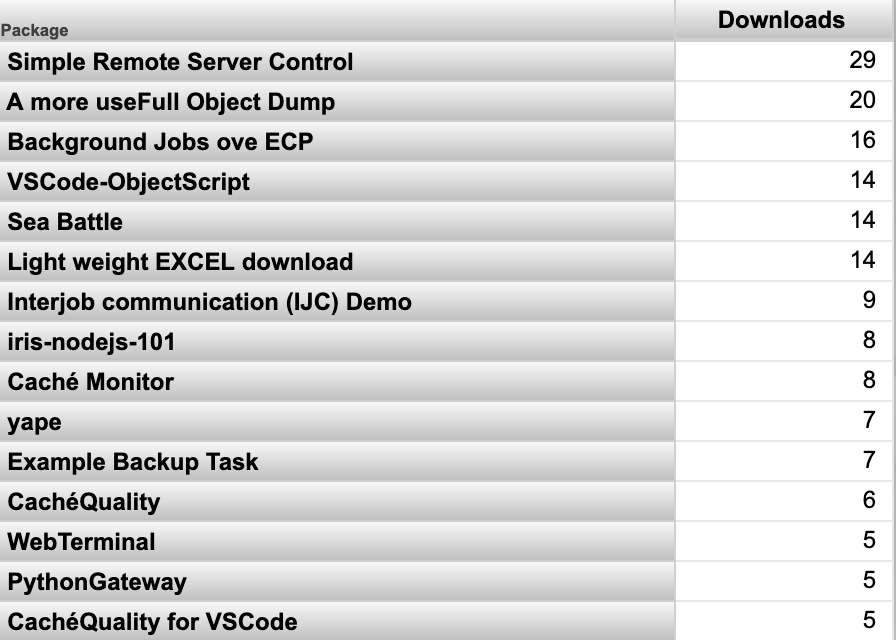 Top downloads in H1 2019:
Also, check previous month Open Exchange digest
Thank you and stay tuned!