Image Download from URL
Hello,
I'm currently struggeling with a HTTP request to a URL, which contains an jpeg image file.
Testing the request with a browser or Postman results in the image being shown normally.
Using a %Net.HttpRequest with different configurations has resulted in a corrupted file.
My code works for some URLs from other servers perfectly fine, but with some it produces corrupted file contents which do not represent a jpeg.
N REQ,STATUS,RET
Set REQ=##class(%Net.HttpRequest).%New()
Set REQ.Server="www.distrelec.de"
set REQ.SSLConfiguration="agimero.quwiki.de"
SET REQ.FollowRedirect=1
SET REQ.ContentType="image/jpeg;charset=UTF-8"
DO REQ.SetHeader("Connection","keep-alive")
DO REQ.SetHeader("Accept-Encoding","gzip,deflate,br")
SET REQ.Port=443
set REQ.Https=1
SET STATUS=REQ.Get("/Web/WebShopImages/landscape_medium/_t/if/sortimentsboxen-1.jpg")

SET STREAM=REQ.HttpResponse.Data
I have tried different approaches like http with Port 80, different SSL Configurations, using $system.Util.Decompress but STREAM always contains less data, than the amount I can see in Postman or my browser. The image should be 18 KB but STREAM only contains 13 KB.
Converting to Base64 also yielded no displayable result.
Here are the headers sent and received with Postman.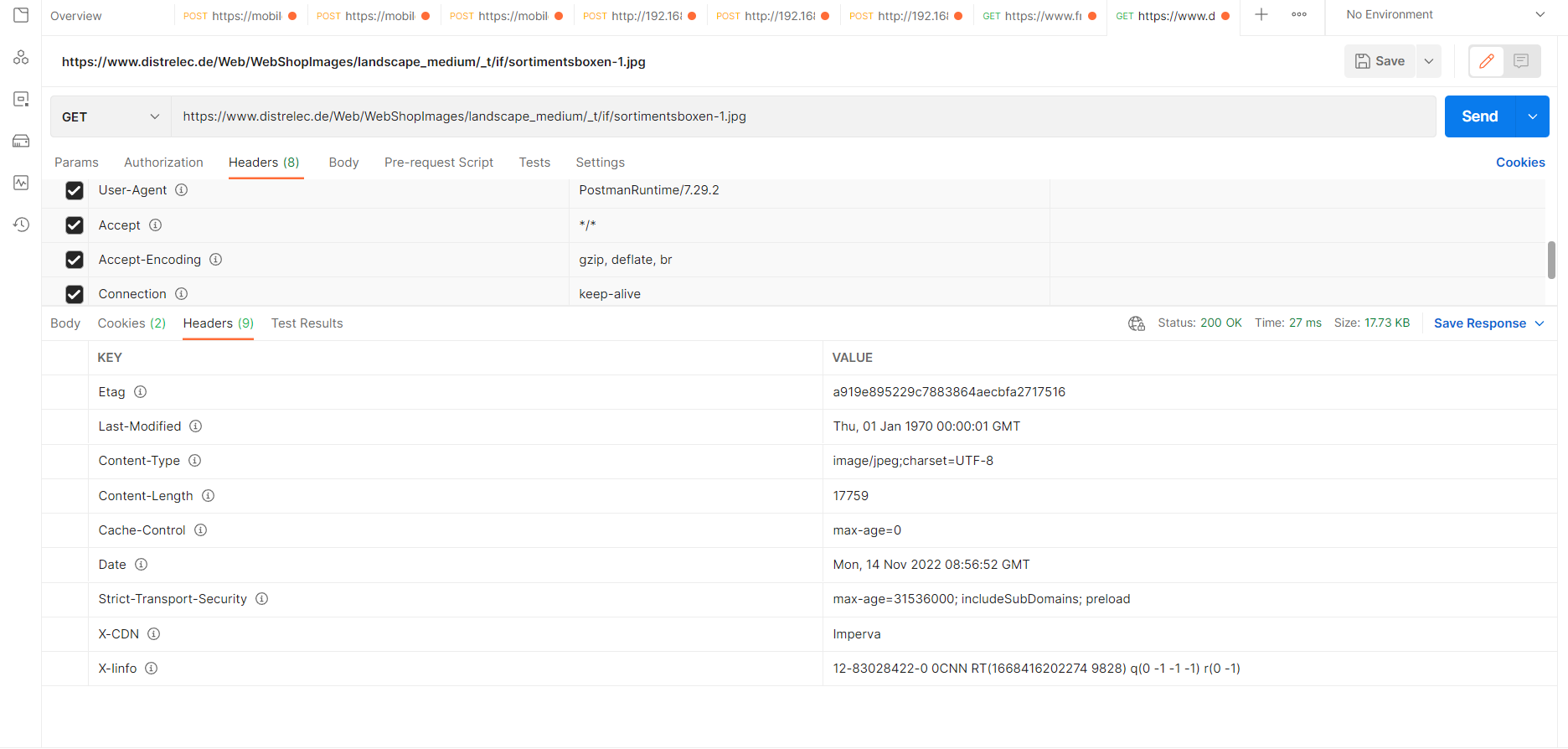 Product version: Caché 2017.1
$ZV: Cache for Windows (x86-64) 2017.2 (Build 744U) Fri Sep 29 2017 10:58:27 EDT