Developer Community Release February 2018
Hi, Community!
We have a new release of Developer Community here!
What's new?
Better subscriptions, new notifications on answers, better performance, better member mentioning and public task tracker for DC.
See the details inside!
1. Revised subscription module
We would be glad if you subscribe to everything on DC. There is only one switcher for that on the MyAccount->Subscription page:
To subscribe to all the posts:
To also to get all the comments and answers:
But, if you want a more granular subscription, you can subscribe to posts, members, groups and tags you interested in.
For Groups and Tags subscriptions we introduced a new module, where you can see the list of current groups and tags you subscribed to. Above it, you can see Groups and Tags available for subscription. See that short video which describes how you can manage your Groups and Tags subscriptions: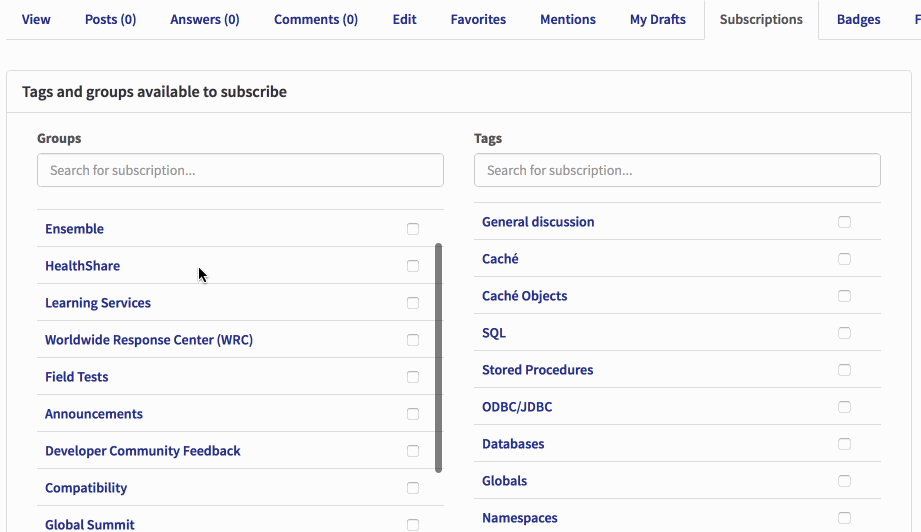 Please provide your feedback in comments below.
2. We simplified member the mentioning
To mention a member type @name.surname and he'll be notified.
Or you can copy mentioning formula on the member's page like on a screenshot below:
3. Enhancements in notifications
Now notification on comment always contains the previous context. And the previous context is placed before the comment, as it is posted in the discussion's page. E.g. here is the screenshot of a comment made by Steve Pisani:
4. Accepted answers engagement
I like to see a lot of answers with sign Accepted and hope you too, don't you?
Sometimes we forget to put the sign on the answer even if there is an answer which is suitable to become "accepted".
So we introduce a new notification which comes to you weekly and sends the list of your questions, which have answers but you didn't peek any accepted answer yet.
You can alter that switch in Subscription-> Delivery of notifications section:
It is On by default for all the members.
5. Small bug fixes and enhancements
Commenting and Answering takes a lot of time to load the editor. It sped up by two times.
Members page now opens much faster.
A lot of small bugfixes were solved too and some new introduced ;)
6. Public issues and tasks for DC
We introduced a Community Github repo to let you easily provide issues on bugs and enhancement requests for Developer Community site.
You are very welcome to add your own and comment current.
That's it! Hope you like it!
Please provide your feedback in comments below!