InterSystems Open Exchange: How to Publish a New Release of Your Application?
Hi Developers!
Suppose you published your application on Open Exchange with version 1.00. And then you've added a new outstanding feature and you make a new release.
You can also make a new release of your application on Open Exchange.
Why make releases on Open Exchange?
This the way for you to highlight the new features of your application. When you publish a new release the following happens:
Release notes appear on the News page of Open Exchange
The version of your app changes
Version History tab is updated
All the followers of you, your application or your company receive an email notification.
Weekly and monthly Open Exchange digest on OEX and Developers Community will include the note on your release.
How to make a new release
Open your published application page and click Settings-> Edit:
Make changes in description or tag if the new release brings these changes and click Save. Save it even you don't have any changes for the App's properties.
Then click 'Send for Approval to update the version and submit Release Notes:
You will see the window with version number and release notes.
We automatically up the minor version of the current version number but it's up to you what version to release or even not change the version number at all. Release notes supports Markdown so prepare the markdown text in any editor it supports (e.g. VSCode) and copy-n-paste it here. Then click on Send button: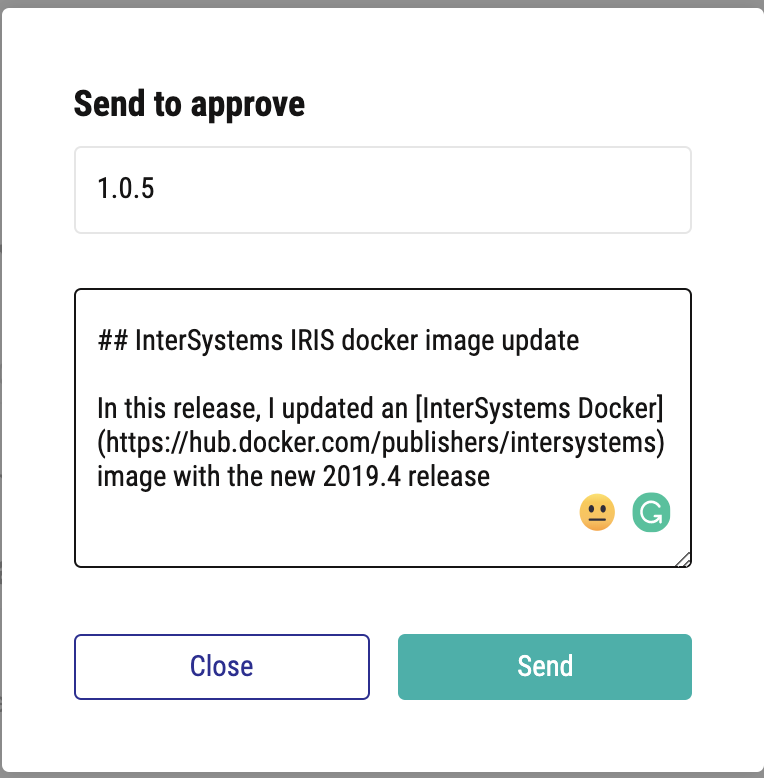 The markdown I submitted here:
## InterSystems IRIS docker image update

In this release I updated an [InterSystems Docker](https://hub.docker.com/publishers/intersystems) image with the new 2019.4 release
Once the version is approved release notes will be sent to all your subscribers and be published on the News page:
Please submit your comments below if you have any questions and also submit suggestions and bug reports here.
Make new releases of your InterSystems Applications on Open Exchange and Stay tuned!