InterSystems Open Exchange Digest, March 2019
Hi Community!
This is the update on what are the new applications submitted on OpenExchange in March 2019
New Applications
isc-tar published by @Dmitry Maslennikov
Compact files as TAR or Extract files from TAR files
Light weight EXCEL download v.1.0 published by @Robert.Cemper
This is the working example of a light weight export to EXCEL based on data in SAMPLES namespace. Good old CSP is well equipped to produce HTML tables accepted from EXCEL as input. With modern Browsers you don't even need and tags. So the required code around your SQL result set is really slim. And you are free to add any formatting you need either by HTML or in SQL.
PythonGateway v.0.7 published by @Eduard Lebedyuk
Python Gateway for InterSystems Data Platforms.
Adopted Bitmaps v.1.0 published by @Robert.Cemper
This is a running example of the Bitmap Adoption
WebSockets Tutorial v.1.0 published by @Lily Taub
A short tutorial on WebSockets in InterSystems IRIS 2018.1+ and Caché 2016.2+
Sync Data with DSTIME v.1.0.0 published by @Robert.Cemper
Other Sync-Tools just work from Caché/IRIS to Caché/IRIS. Synchronizing your data to some external DB you requires some other solution. DSTIME can do it.
HL7 and SMS Interoperability Demo v.1.3 published by @Amir Samary
This demo shows how easy it is to integrate an Electronic Medical Record system that is sending HL7 messages with AWS.
​​​​​​General stats
Total applications: 119
Downloads by months:
The most popular apps in March 2019 by downloads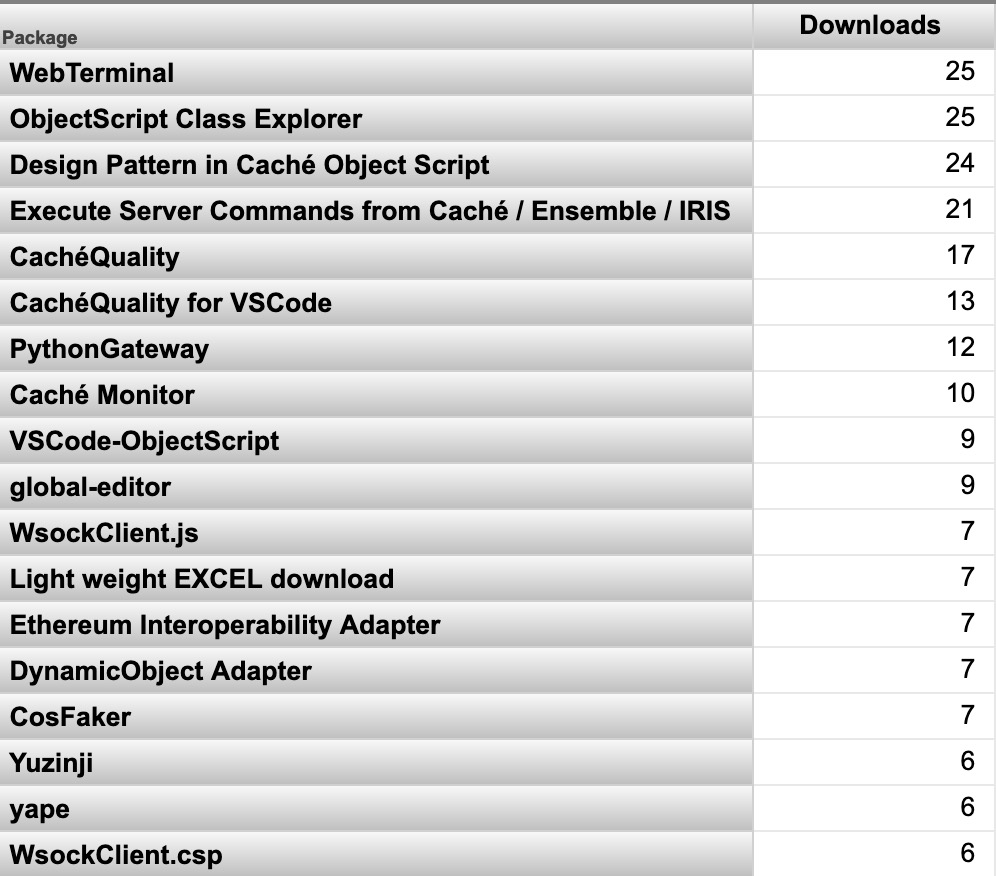 Please, check the March 2019 kanban and submit your feature requests!
And submit your apps on InterSystems Data Platforms to Open Exchange!