InterSystems <> Mirantis Developer Meetup on Kubernetes - Boston, USA
Hi Developers!
InterSystems continues the Developer Meetup event series. The next one will happen on November 17th from 5:30 pm-8 pm ET in Boston, MA, USA.
At this meetup, you will learn more about Kubernetes, Mirantis Lens tool, and how to run Lens with InterSystems IRIS IKO (InterSystems Kubernetes Operator).
Food and drink will be provided.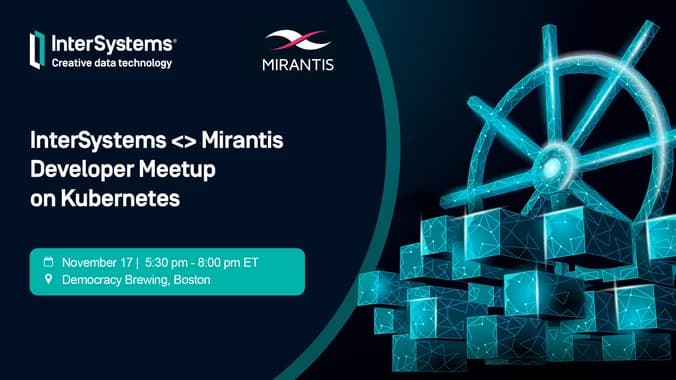 Agenda:
👉 "InterSystems Overview and Developer Resources" by @Dean Andrews, Head of Developer Relations, InterSystems
👉 "Mirantis Overview and Developer Resources" by Tommy Decker, Account Executive, Mirantis
👉 "Scaling Stateful Workloads in Kubernetes" by @Bob Kuszewski, Product Manager - Developer Experience, InterSystems
👉 "Demo of Lens with InterSystems IRIS IKO (InterSystems Kubernetes Operator)" by Toby Goodlock, Solution Architect, Mirantis
⏱ Date and Time: November 17th from 5:30pm-8pm ET
📍 Location: Democracy Brewing, Boston