Developer Community Release, September 2022
Welcome to the September'22 Community Release!
We're super excited to share with you all the latest improvements we've done over the last couple of months!
📌 new header of the site
📌 InterSystems Certification page and highlights for certificated specialists
📌 search bar in Posts, Replies, and Direct Messages
📌 new "About Us" pages: our Team and Dev Ecosystem overview
📌 highlights for DC Moderators and Team
📌 new Up button
Let's have a closer look at all these improvements.
New DC Header
We've changed the layout of our header. We "hid" our previous menu in the
button to make it more user-friendly:
All menu sections remain the same:
InterSystems Certification page
From now on, you will be able to spot which one of the members of our Community has successfully passed the official InterSystems certification (or rather added it to their profile)! They are marked with the green tick both in their posts and their profile:
Also, information about their certification is available on their DC profile page in the InterSystems certifications menu:

✅ P.S. don't forget to add your certification to your DC profile ;)
Search bar in Posts, Replies, and Direct Messages
We know that sometimes you need to search for something in your own stuff. To make it possible, we've added new Search bars to your Posts, Replies

and Direct Messages

"About Us" pages: Team and Ecosystem
We've recently rolled out our new "About us" pages in order to let the entire Community know about the people who care about it:
📍 Our Team
and about related portals and resources:
📍 InterSystems Developer Ecosystem Overview
You can find these in the "About Us" section from the top menu:
Highlights for DC Moderators and Team
We've added some visibility to our Team members and DC Moderators. Now they are easy to spot by green or purple marks on their avatars: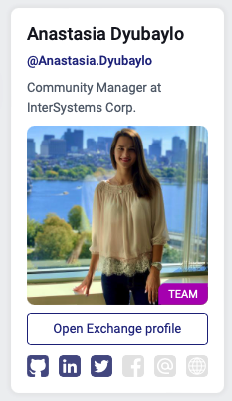 Up button
We know it may get frustrating to scroll all the way up to the top of the page when you're somewhere at the bottom. So to make our DC even more user-friendly, we've added the Up button to get directly to the top of the page. It appears when you start scrolling and leave the "top visible screen":
That's it for now! Hope you like our improvements!
See you next time with more upgrades ;)