A sophisticated alerting solution lets you solve problems quickly and proactively.  Sign up for the Proactive Alerting: Advanced Approaches for Alerting Solutions webinar (July 6, 11:00am EDT) presented by Michael Brady, InterSystems Technical Trainer, to learn how to make the most out of your alerting solution.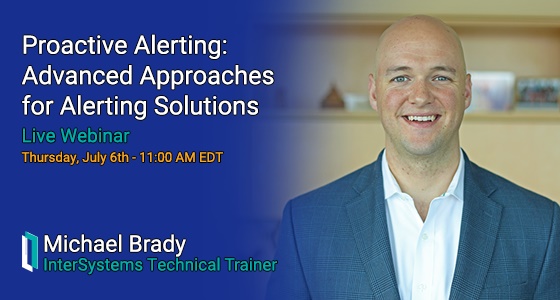 Topics will include sending alerts to people outside of your own support team and using a custom method to dynamically alert based on component settings. This webinar is valuable for managers, administrators, interface engineers, and developers working with Ensemble, Health Connect, and HealthShare productions.

Note: This webinar assumes that you have basic knowledge about Ensemble's alerting framework. If you are new to the topic of alerting, take the Setting Up Alerts online course (15 mins), or read "Monitoring Alerts" in documentation to ensure that you get the most out of this webinar.

Got a question about advanced alerting? Email Michael Brady before the webinar to ask — your question could be featured in the webinar!
Register for the webinar today.