Hey Community!
It's time again for good tidings for you! 
For the first time, InterSystems will be part of the WeAreDevelopers World Congress in Berlin, Germany, which brings together developers, IT experts and digital innovators to discuss and shape the future of application development.
From 6 to 7 June, we're ready to welcome you at our booth #A5 and show you how InterSystems technologies enable intelligent interoperability and accelerate the creation of powerful, data-driven applications.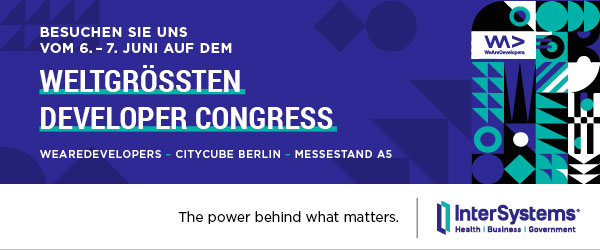 Schedule your individual meeting with InterSystems @ WeAreDevelopers in Berlin by quickly filing out the form on our event page [https://dach.intersystems.de/WeAreDevelopers2019] – the first three applicants will receive a FREE ticket!
To make it more challenging for you, we've decided to provide the webpage & form in German only.
So...Do not miss your chance! 
Join the World's Largest Developers Congress with InterSystems!