Jose Tomas Salvador 26 May 2020
AWS
,
Containerization
,
Deployment
,
Cloud
,
Platforms
,
Performance
,
Tutorial
,
Ubuntu
,
Developer Community
,
InterSystems IRIS
,
InterSystems IRIS for Health
,
InterSystems Official
AWS ha liberado oficialmente su segunda generación de procesadores Graviton2 basados en ARM y asociados al tipo de instancia Amazon EC2 M6g, que presume de ser hasta un 40% mejor en precio-rendimiento sobre la actual generación de instancias M5 basadas en Xeon.
Hace pocos meses, Inthhis nos llevó a suportar arquitecturas ARM64 por primera vez.
¡Ahora puedes probar InterSystems IRIS e InterSystems IRIS for Health sobre instancias Amazon EC2 M6g basadas en Graviton2 accesibles a través del AWS Marketplace!
Si no estás familiarizado con el lanzamiento de una instancia a través del AWS Marketplace, vamos a hacerlo ahora. Lo primero es hacer log-in en tu cuenta AWS, después navega al listado de InterSystems IRIS del AWS Marketplace y haz clien en 'Continue to Subscribe'
Click en 'Accept Terms' para subscribirte, espera un minuto, y después 'Continue to Configuration'
Puedes aceptar los valores por defecto y 'Continue to Launch'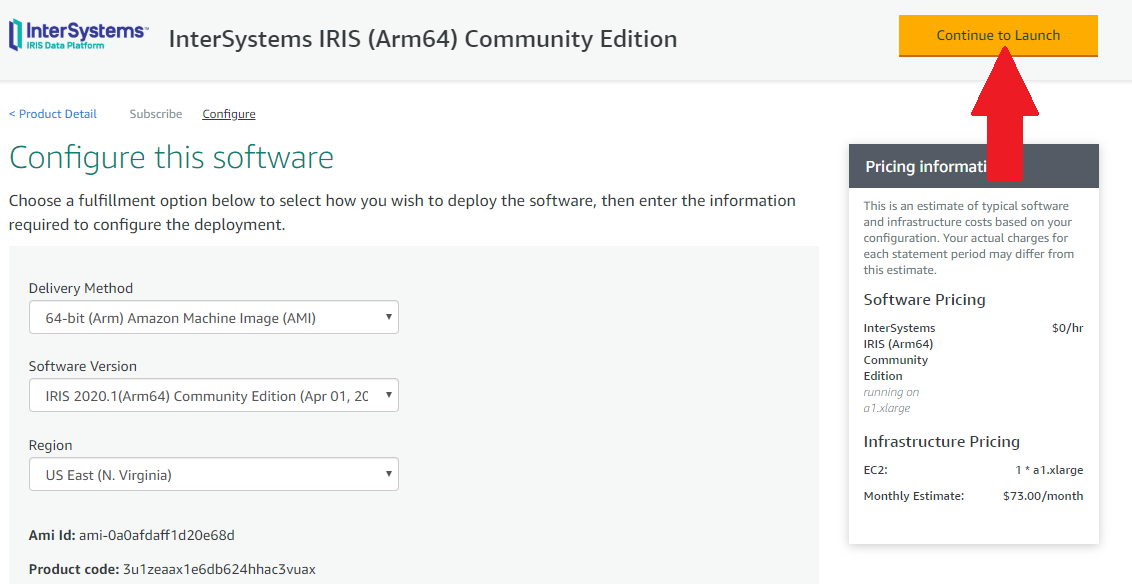 En la página de lanzamiento, asegúrate de seleccionar el tipo de instancia m6g.large
Ve bajando, y selecciona un par de claves válido, o sigue el link para crear uno nuevo si no tienes ya uno. Después selecciona Launch.
Ahora ya puedes navegar a tu consola EC2 para acceder a tu nueva instancia.
Le puedes dar un nombre, acceder a la dirección IP pública, como ves a continuación:

Y entrar vía SSH a la instancia utilizando tu clave privada y el nombre del host (ubuntu@<Public-IP-Address>). Aquí estoy usando PuTTY, asegúrate de que apuntas a tu fichero de clave privada (.ppk for PuTTY, under SSH > Auth)
Para otros clientes SSH e información adicional, por favor echa un vistazo a las Instrucciones de Uso copiadas aquí:
Instrucciones de Uso para IRIS 2020.1(Arm64) Community Edition
Para comenzar:
- Entrar vía SSH a la instancia Ubuntu EC2 siguiendo las instrucciones aquí: https://docs.aws.amazon.com/AWSEC2/latest/UserGuide/AccessingInstancesLinux.html
El usuario por defecto es "ubuntu"
- Tomar nota de la información de conexión proporcionada en el mensaje de conexión.
- Comienza por resetear la pasword de IRIS: "$iris password"
- Conecta tu IDE - ver: https://www.intersystems.com/developers/
- Aprender más con un Quickstart - https://learning.intersystems.com/course/view.php?id=1055&ssoPass=1
- Entra directamente al terminal de IRIS con: $docker exec -it iris iris session iris
Recursos adicionales:
InterSystems se esfuerza en dar a sus clientes la libertad para elegir plataforma. En InterSystems estamos entusiasmados por ver las ganancias en rendimiento y el ahorro en coste que los procesadores AWS Graviton2 pueden proporcionar a los usuarios de InterSystems IRIS. Preveemos que estos beneficios combinados deberían llevar a una adopción significativa de plataformas basadas en ARM entre usuarios de IRIS, y ¡nos emociona soportar InterSystems IRIS corriendo sobre instancias AWS Graviton2-based M6g EC2!